INFRARED THERMOGRAPHY TESTING – INFRARED THERMOGRAPHY FOR PLANT INSPECTION – ELECTRICAL AND MECHANICAL, HELPS IN IDENTIFYING LOOSE, OXIDIZED, MALFUNCTIONING ELECTRICAL PARTS EMITTING HOT SPOTS AND SAVES MONEY YEARLY ON EXCESSIVE ELECTRICITY CONSUMPTION.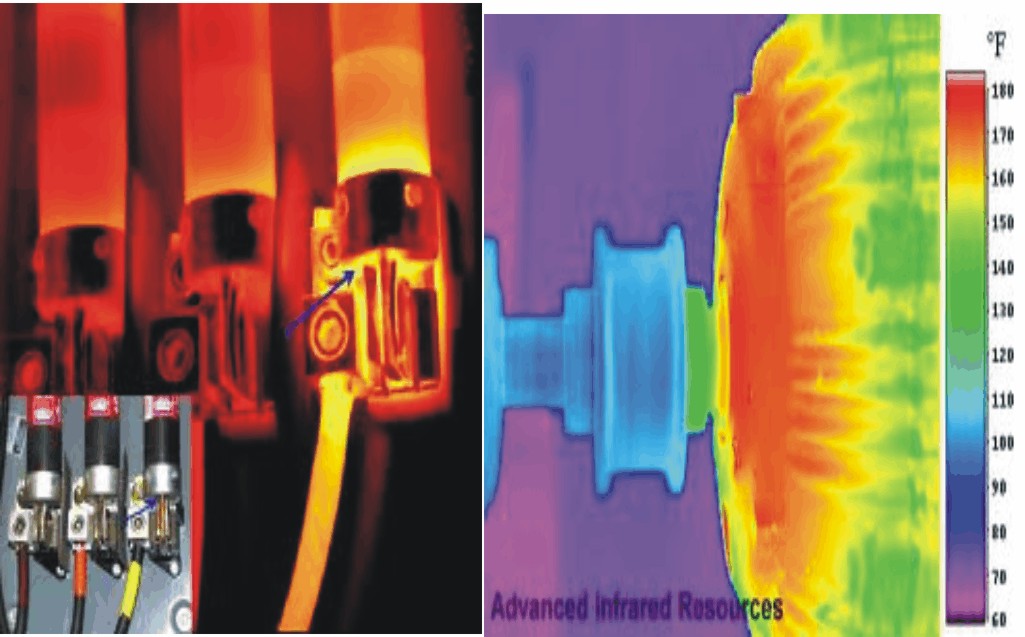 A LOOSE / OXIDISED WIRE DRAWS HIGH CURRENT WHICH IS NOT VISIBLE BY HUMAN EYE, INFRARED THERMOGRAPHY CAMERA DETECTS THE HEAT EMITTED FROM IT AND HELPS IN IDENTIFYING THESE HOT SPOTS.
ALSO VERY EFFECTIVE IN IDENTIFYING HOT SPOTS IN MECHANICAL DEVICES – PUMPS & MOTORS, PIPING INSULATION FOR STEAM LINES, COLD NITROGEN LINES AS SHOWN IN THE FOLLOWING PICTURES –
THERMOGRAPHY TESTING OF THE PLANT PIPING SHOWING HOT SPOTS ON THE SURFACE
INDICATING INSIDE CORROSION / LEAKAGE.
THERMAL IMAGING SHOWING THE FIRST MOTOR EMITTING MORE HEAT , THE REASON FOR THIS CAN BE DEFECTIVE BEARING, ECCENTRICITY, EXCESSIVE FRICTION. THIS WILL EVENTUALLY LEAD TO FAILURE.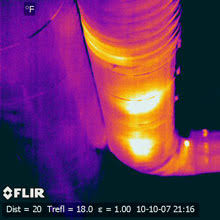 THERMOGRAPHY TESTING OF THE INSULATED PLANT PIPING INDICATING LEAKAGE IN THE INSULATION SURFACE RESULTING IN LEAKAGE OF THE STEAM FROM THE PIPES AND HEATING THE PIPE SURFACE.
ELECTRICAL CONNECTOR SHOWING HOT SPOTS WHICH INDICATES LOOSE CONTACT, OXIDIZED SURFACE OR CRIMPING PROBLEMS, THESE TYPES OF SPOTS USE MORE ELECTRIC CONSUMPTION AND ENERGY LOST IN THE FORM OF HEAT GENERATED.
These types of problems generate hot spots on the surface and it can be easily identified in the Infrared Thermography Inspection.
ELECTRICAL COMPONENTS SHOWING ANOMALY AND NEEDS RECTIFICATION.
HOT WIRE SEEN IN THE PICTURE AND THE CAUSE TO BE IDENTIFIED.