Home » ULTRASONIC TESTING FOR FIBER – GLASS REINFORCED PLASTIC
ULTRASONIC TESTING OF COMPOSITE MATERIALS –
Inspections are carried out using aerospace grade flaw detection equipment following aerospace inspection procedures for metallic and composite monolithic and cored structures. The equipment can detect disbonds and delaminations and provide evidence of inclusions, porosity and other discontinuities that could affect the performance of materials and components.
The NDT techniques can find a range of anomalies and defect types in metallic and composite structures. Examples of production and in-service defects that we have found include:
Void Detection
Voiding and porosity can be indication of poor manufacturing processes or a problem during moulding and curing of the laminate. Evidence of porosity can be detected using conventional ultrasound. In some cases the degree of porosity can be quantified using techniques similar to those employed in the aerospace industry.
Impact Damage
Impact damage in monolithic composites can quickly be identified using ultrasonic inspection to detect the extent of the damaged area and evaluate the nature of the damage. This provides important data to the designer and manufacturer so that an effective repair schedule can be formulated.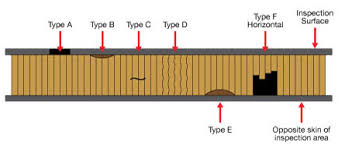 Skin To Core Delamination
Skin to core delamination is usually detected using acoustic methods which 'listen' to the changes in the natural resonance of the structure caused by defects. The specific acoustic method used depends on the type of laminate, its thickness and the type of core.
Crack Detection
Whereas cracking or delamination in composites tends to occur in layers parallel to the surface of the laminate, cracks in metallics can occur in any orientation. Marine Results is trained in angle beam ultrasound methods for the detection of cracks in complex parts constructed in steel, stainless and aluminium alloys.